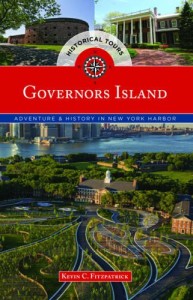 The wait is nearly over!  The publication date for my new book, Governors Island Explorer's Guide: Adventure & History in New York Harbor,  is just one month away:
Eight easy-to-follow maps cover all 172 acres of Governors Island. Also included is information about planning a trip, ferry service, where to eat, and bicycle paths.
Learn the history of Castle Williams and Fort Jay—protecting New York since the 18th Century.

Read a guide to the island's past, starting in the 1620s with Dutch colonists.

Detailed architectural, historical, and cultural notes of more than 100 buildings and landmarks.

A bicycling guide to New York City's most impressive bike tour, five miles of car-free cycling.

Get your copy and get a head start on the 2016 summer season on Governors Island. It's chock full of gorgeous pictures, history and suggestions for how to make the absolute most of your next visit to the island.

Pre-orders are available at Amazon, Barnes & Noble and IndieBound.