Reading at Parkside Lounge
March 12, 2015 @ 7:00 PM

-

11:45 PM

$6.00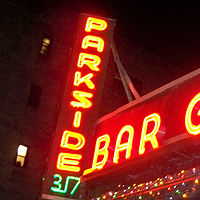 Thursday, March 12, at the Parkside Lounge, come hear four writers read from their work as part of Mike Geffner Presents The Inspired Word.
The Inspired Word presents We Heart NYC Writers Night + Open Mic at The Parkside Lounge, one of the coolest performance spots in Manhattan's East Village. This is a celebration of emerging New York City writers of all types – poets, novelists, journalists, short story writers. Shows feature carefully selected writers who have recently released books as well as a 15-slot open mic (5-minute time limit). Signed books will be available for purchase – a great chance to show local literary love.
2 Drink Minimum (non-alcholic options are available). Doors open at 7 PM.
March 12 Writers:
Keisha-Gaye Anderson
In 2003, Keisha-Gaye self-published her poetry chapbook Circle Unbroken. She has performed as a spoken word artist at a number of venues, including Bowery Poetry Club, Nuyorican Poets Cafe, and The Knitting Factory. She is one of the founding poets of Poets for Ayiti, a collective of poets from diverse backgrounds committed to the power of poetry to transform and educate. The proceeds from their poetry collection For The Crowns of Your Heads has helped to rebuild Bibliotheque de Soleil, a library razed during the 2010 earthquake in Haiti. Her poetry and essays have appeared in Poems on the Road to Peace, The Mom Egg, Afrobeat Journal, Sometimes Rhythm Sometimes Blues, Small Axe Salon, the Killens Review of Arts and Letters, Caribbean in Transit Arts Journal, and others.
Katy Bohinc
Katy is the author of Dear Alain & Director of Tender Buttons Press. She edited Please Add To This List: A Guide to Teaching Bernadette Mayer's Sonnets & Experiments. She has a background in Math, Comparative Literature, China, France & Buenos Aires, works as a data scientist, and lives in New York City. Follow Katy on Tiwtter @ ironchic.
Kevin C. Fitzpatrick
Kevin is the author of The Algonquin Round Table New York: A Historical Guide (Lyons Press), Under the Table: A Dorothy Parker Cocktail Guide (Lyons Press), and A Journey into Dorothy Parker's New York (Roaring Forties Press). Kevin is a contributing writer to The Huffington Post and Literary Manhattan. In 1998 he founded the Dorothy Parker Society, which has been featured in The New York Times, Los Angeles Times, USA Today, National Geographic Traveler, and BBC Radio. He is a licensed New York City sightseeing guide and leads walking tours around the city. Follow on Twitter @ k72ndst.
Mitch Friedman
Mitch has been telling humorous stories for five decades, whether it has been as a funny kid, a comedy performer/monologist, exhibited ironic street photographer, award-winning quirky pop songwriter of five albums, or on the job as a film/video editor for the likes of Howard Stern and Ellen DeGeneres. His first book, Hell Toupee: My ridiculous year with Hair Club for Men, is a tragicomic memoir set in New York City in 1993.
Produced by Mike Geffner Presents The Inspired Word
Doors open for open mic sign-up @ 7pm. Slots will be given out on a first come, first serve basis.
Cover Charge: